Freedomsoft is a software development company located in Asheboro, NC. Its product, TireShop, is specifically designed to manage tire, automotive repair, and quick lube shops.
Freedomsoft is wholly owned by Jim Yelverton and his two sons, Stephen and Joel. Before founding Freedomsoft in 2001, Jim wrote custom software applications for a variety of businesses. One of those businesses was a tire & auto repair shop in his hometown of Asheboro. With the help of Chris Carmac, the DOS application for that tire store would be developed into what is today, TireShop.
Customer base – Tireshop is used by companies all across the US and Canada. Freedomsoft is growing at a rate of 15 to 20 percent a year.  It's attrition rate is minimal, having lost only 4 customers to competitors over the last 15 years.  Over 90 percent of new customers come from current customer, vendor, and partner referrals.
Target market – TireShop's powerful feature set, scalability, configurability, and simplicity make it well suited for a wide variety of automotive applications.   Businesses currently using TireShop range from very small family owned shops to companies with 100+ tire & automotive centers.  Business types include retail, wholesale, commercial, and internet sales.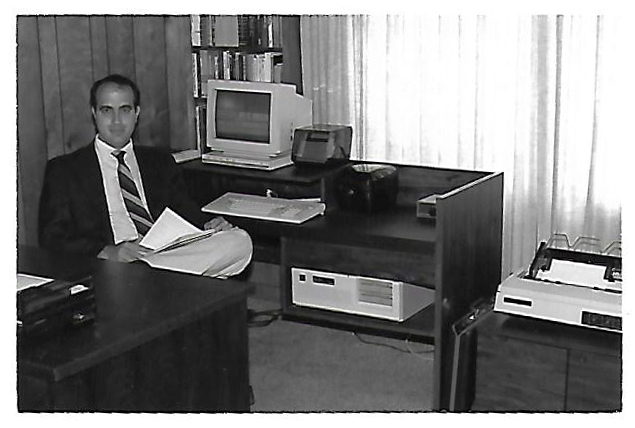 Jim Yelverton from his home office in 1987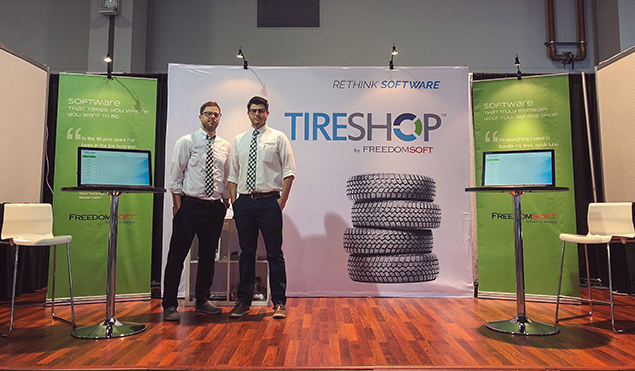 Part of the Freedomsoft team at the 2017 Sema Show